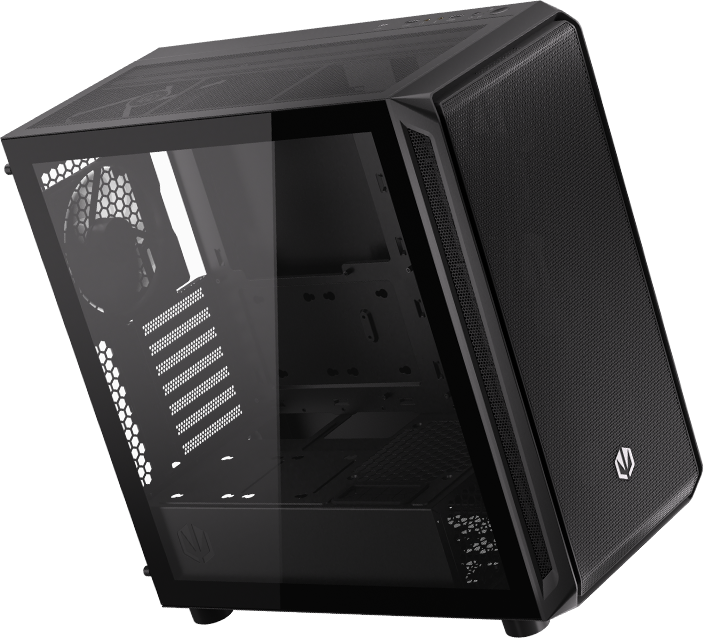 We've seen a lot, but – when we look at the ENDORFY Arx 700 and Arx 500 series – we're quite literally bursting with pride. We've put our best solutions into this project and it's EPIC (Caps Lock intentional).
These are the most advanced PC cases we've ever made. Two similar unique models emerge from each series to suit your personality and needs – Air (focusing on the best airflow) and ARGB (in addition to great cooling, it also provides unforgettable visual effects).
The dimensions of the Arx 700 series equal 486×228×472 mm, while the Arx 500 series reaches 486×228×429 mm. Owing to this, they can easily fit all your components. For example, a tall cooling system (up to 179 mm), at least 7 fans (in the Air version, you get 5 Stratus 140 PWM, while ARGB models come with 4 Stratus 140 PWM ARGB), and decent sized graphics card. Our PC cases keep all of them in a hpleasant breeze thanks to finely perforated metal panels (front and top) that allow the fresh air to flow while blocking dirt and dust from entering your PC case. Like sentinels guarding the gates of heaven.
And all of this happens under your watchful eye – through a tempered glass window.
The ENDORFY Arx 700 and Arx 500 are a series of cases created by enthusiasts for enthusiasts. They are our most advanced projects to date, based on 3 pillars: well-thought-out layout, best possible airflow, and ease of assembly.
Piotr Pietras

, Chief Product Officer Components
Cold as a fridge
We've heard that the Arx 700 PC cases are so cold that you feel like you're inside a refrigerator. We officially deny it – there are no hStratus 140 PWM fans in refrigerators (certainly not the ones we developed in cooperation with Synergy Cooling). In the Arx 700 series, you get 5 of these to start with in the Air variant and 4 in the ARGB variant.
Let's make some noise
breeze!
If the components in the Arx 700 series ever threw a house party, they'd probably start it off with a loud: "Let's make some noise breeze!". Because here – apart from having fun – we are all about air flow. For this reason, we've made sure that our PC cases help to keep it cool like a good air conditioner.
No hot & sweaty... parts ;)
The excellent ventilation in the Arx 700 series PC cases is made possible by the mesh sides (front and top). Some may prefer to replace them with overlapping filters – but the truth is that the double anti-dust layer restricts airflow like metal armor during LARPs. And after all, no one likes hot and sweaty... parts. ;)
Turn up the heat
chill
Hours of battles with virtual opponents (or deadlines) = overheated components begging for a break. Luckily, the Arx 700 series cases keep things pleasantly cool, even when you are squeezing the last juices out of your PC. This is thanks to a spacious interior that can simultaneously fit up to 2 radiators (360 mm each) and 8 air conditioners fans (up to 140 mm).
Size does not
matter
Supposedly, size doesn't matter. But when it comes to cases, those extra centimeters = more room for your treasures and better airflow. That's why we made sure that the Arx 700 series PC cases are the largest ones in our portfolio (yet) – so you can heasily fit all components.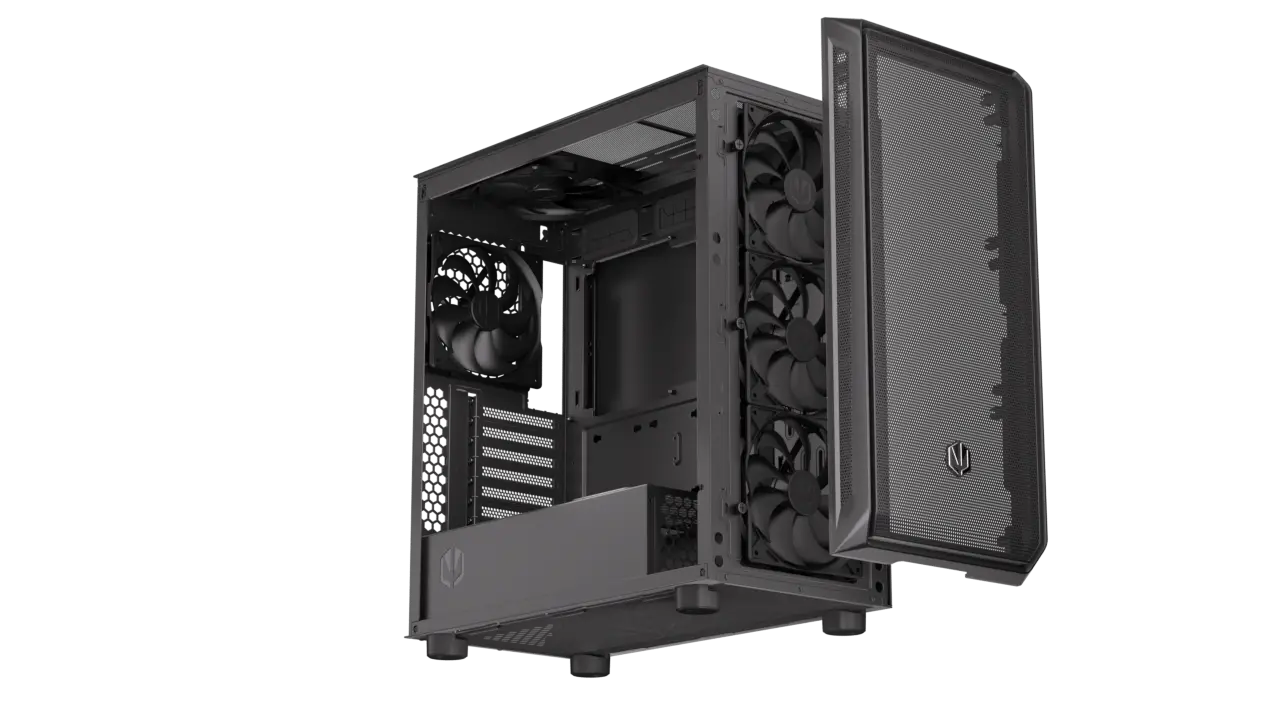 Cold as in the Arctic
Arx 500
They say that the Arx 500 series cases are so cold, you might feel like you're at the pole. That's true, but don't expect to find any penguins. Instead, you'll see our reliable hStratus 140 fans, developed in collaboration with Synergy Cooling.

The Arx 500 series PC cases offer plenty of space (486×228×429 mm), so you'll undoubtedly fit all the components of your dreams. And they won't overheat because – when it comes to cooling efficiency with the Arx 500 series – there are no compromises.
Allies in the fight against enemy
overheating
The cooling in the Arx 500 series cases is handled by Stratus 140 PWM fans (in the Air model) and Stratus 140 PWM ARGB (in the ARGB model). With the Air version, you start with 5 pre-installed fans on board, and with the ARGB variant, you get 4, but with personalized lighting. It's also worth noting that both models offer a speed control option.

Our fans work on durable FDB bearings. This guarantees quiet and smooth operation even during the most intense working gaming sessions.
Perforation – the secret to effective air flow
The Arx 500 series cases utilize finely perforated metal on the front and top panel, ensuring hexcellent airflow and significantly limiting dust ingress. All this without the need for installing additional filters. From now on, you'll only be opening the case to replace components, not to remove lingering dust.
The Arx 500 series – elegance and functionality
The minimalist design makes our cases not only practical but also visually pleasing, much like good armor in an MMORPG. The tempered glass side panel allows you to watch your components in action. If you're a fan of lights, you'll likely need no convincing about the ARGB version. With it, you'll brighten up your room, giving it a unique atmosphere. Plus, you can effortlessly synchronize the lighting with other ENDORFY ARGB-labeled products.
Great case,
great

possibilities

Space does matter. Especially in cases like the Arx 500 Air and Arx 500 ARGB, which – despite their compact sizes – offer immense potential. Inside, you can easily assemble a tall cooling system (up to 179 mm) as well as most top-tier graphics cards. There's also room for up to 7 fans and a power supply unit, which you can install with hease thanks to the handy mounting frame. The Arx 500 series cases do have a lot of potential, don't they?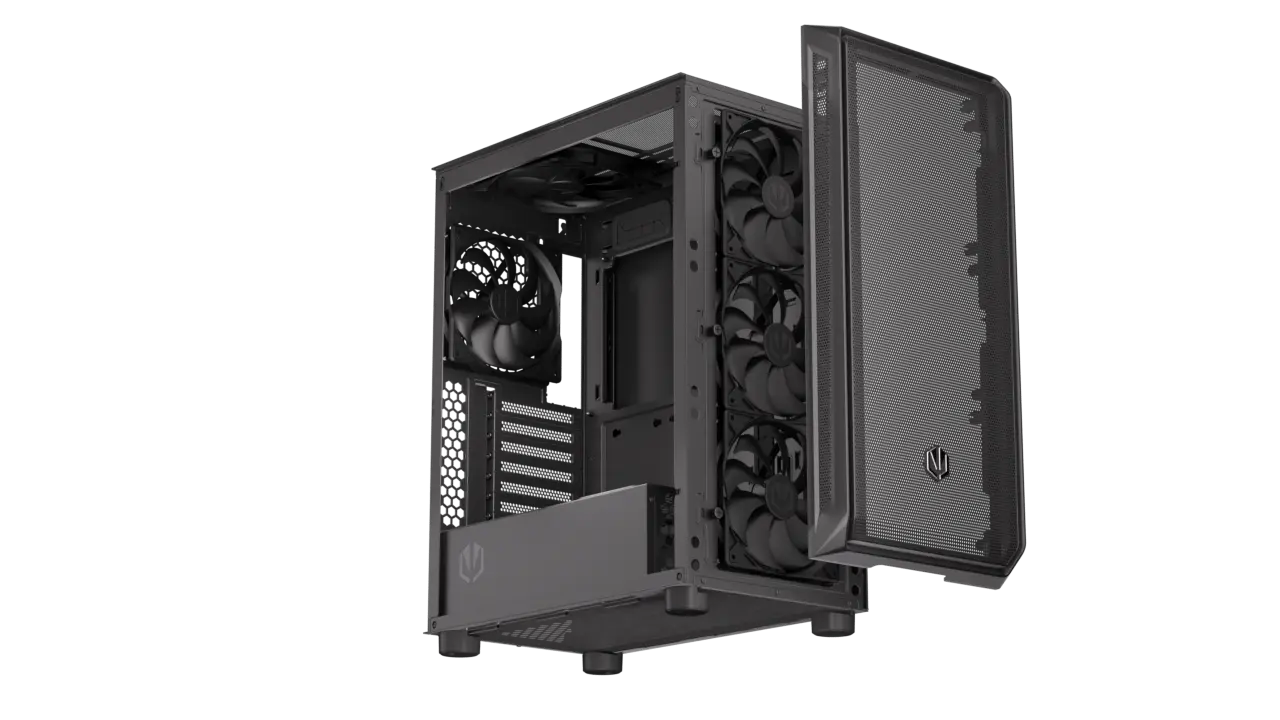 2022
08
creation of prototypes
2022
09
1st project revision
2022
11
2nd project revision
review of slightly bigger batch
2023
02
confirmation of final products version
2023
05
Arx 700 series launch at Computex 2023
2023
07
Arx 500 series launch
140 mm fans have 45% bigger effective area. At the same speed, they provide ~40% more airflow.
Dimensions
Technical data
Product code

EY2A012

EAN-13

5903018666310

Warranty [months]

36
Product type

PC case

Color

black

Dimensions [mm]

486×228×472

ARGB backlight

no
Motherboard form factor

ATX

yes

microATX

yes

mini-ITX

yes
Graphics card clearance (GPU) [mm]

410

CPU cooler clearance [mm]

179

Power supply clearance [mm]

340

Expansions slots [pcs]

7
Fan capacity (maximum) [pcs]

8
Radiator capacity [mm]

Front

1× 120, 240, 280, 360

Rear

1× 120, 140

Top

1× 120, 240, 280, 360
Front I/O

USB-C

1

USB-A

2

Headphones

1× minijack 3.5 mm

Microphone

1× minijack 3.5 mm

Power button

1

Reset button

1
Set includes
Downloads
Manuals
Dimensions
Technical data
Product code

EY2A010

EAN-13

5903018666297

Warranty [months]

36
Product type

PC case

Color

black

Dimensions [mm]

486×228×429

ARGB backlight

no
Motherboard form factor

ATX

yes

microATX

yes

mini-ITX

yes
Graphics card clearance (GPU) [mm]

350

CPU cooler clearance [mm]

179

Power supply clearance [mm]

300

Expansions slots [pcs]

7
Fan capacity (maximum) [pcs]

8
Radiator capacity [mm]

Front

1× 120, 240, 280, 360

Rear

1× 120, 140

Top

1× 120, 240, 280
Front I/O

USB-C

1

USB-A

2

Headphones

1× minijack 3.5 mm

Microphone

1× minijack 3.5 mm

Power button

1

Reset button

1
Set includes
Downloads
Manuals